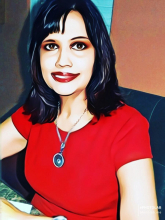 Trinidadian Brenda C. Mohammed, a former Bank Manager, is a multi-genre, bestselling, and multi-award-winning author. To date, she has published forty- six books.
Among her publications are four anthologies and three magazines, co-authored by members of the How to Write for Success Literary Network that she founded in February 2018.
Her genres include memoirs, science fiction, romance, self-help, mystery, children's books, psychological thrillers, Christian books, poetry, and poetry anthologies.
Brenda holds a Diploma in Banking from the Institute of Bankers in London[AIB], and a Diploma in Life Underwriting from the American College, USA. [LUTCF]. She qualified for the Million Dollar Round Table, the Premier Association for Financial Professionals, [MDRT] six times in a row.
She is the Founder of the Literary Network How to Write for Success with sub-forums - Poems for Suicide Prevention, Library of How to Write for Success, and Poems against Domestic Violence.
She is also the National President for Grupo- Unión Hispanomundial De Escritores - UHE Trinidad and Tobago.
Peace Ambassador – CIESART, Europe,
Peace Ambassador - Iqra Foundation.
Her superb writing skills won her several literary awards in the USA, Peru, Kazakhstan, Seychelles, Nigeria, India, Romania, Argentina, Morocco, Philippines, Hong Kong, Indonesia, Barcelona, France, Switzerland, Italy, Indonesia, Sri Lanka, and the UK. She made headlines in several newspapers around the world.
Many of her books received five-star awards from Readers Favorite International, and many attained No 1 bestseller ranking.
In November 2018 she won two awards from Readers Favorite International for her science fiction book, 'Zeeka Chronicles' in the category Young Adult Thriller, and her Memoir, 'I am Cancer Free' in the category Health and Fitness.
Three of her books won gold awards in Connection EMagazine Readers' Choice Awards - Zeeka Chronicles, [2019] Stories People love, [2020] and How to Write for Success [2020]
In Sept 2021 her mystery book, Barry Holmes Mysteries, won her BEST WRITER - FANTASY Award in the CLR [ Culture, Literature and Research] Awards.
Brenda is an advocate against Domestic Violence and Suicide, and together with several bestselling authors have published four Amazon No 1 best-selling anthologies for these causes: A Spark of Hope I and II, and Break the Silence I and II. Presently, the HTWFSLN is working on another anthology – Peace Begins with Us.
Brenda's YouTube Channel for her Video Book Trailers, songs, and travel memories, received over 141,000 views since its inception.