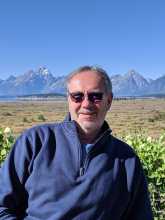 2019 Pacific Book Awards Best Mystery Finalist…Crime Delayed
2020 Pacific Book Awards Best Mystery Winner…Crime Denied
Chuck Morgan attended Seton Hall University and Regis College and spent thirty-five years as a construction project manager. He is an avid outdoorsman, an Eagle Scout and a licensed private pilot. He enjoys camping, hiking, mountain biking and fly-fishing.
He is the author of the Crime series, featuring Colorado Bureau of Investigation agent Buck Taylor. The series includes Crime Interrupted, Crime Delayed, Crime Unsolved, Crime Exposed, Crime Denied, Crime Conspiracy and Crime unknown.
He is also the author of Her Name Was Jane, a memoir about his late wife's nine-year battle with breast cancer. He has three children, three grandchildren and a Siberian Huskie. He resides in Lone Tree, Colorado.