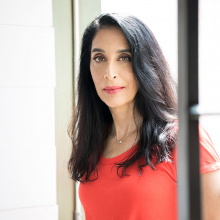 Colette Sartor grew up a nice, New Jersey Italian girl looking to escape the trajectory expected from nice, New Jersey Italian girls: marriage, three-kid minimum, Sunday mass followed by a sit-down dinner for the entire extended family that she alone would cook, serve, and clean up. After fleeing to Los Angeles to be an entertainment lawyer, she found herself disappointed by the Southern California beaches (not nearly as pretty as the Jersey shore) and by lawyering (which sucked), so she quit her job after a few years (okay, eight) and started writing fiction.
Colette's  linked short story collection ONCE REMOVED won the Flannery O'Connor Award for Short Fiction, the NYC Big Book Award for Short Story Collections, and the Short Stories Award and Juror's Choice Award from the National Indie Excellence Awards. Her work has appeared in KENYON REVIEW ONLINE, SLICE, CARVE, THE RUMPUS, HARVARD REVIEW, PRAIRIE SCHOONER, COLORADO REVIEW, and elsewhere. She is the Executive Director of The CineStory Foundation, a nonprofit mentoring organization for emerging TV writers and screenwriters.
Currently, Colette is working on a new short story collection entitled TELL THE BEES in which recurring characters from ONCE REMOVED hopscotch their way through stories haunted by loss and inspired by various oddities, as well as a novel entitled PIECEWORK, which is based on a murder her grudge-holding, sweatshop-owning grandmother helped cover up in the '70s.