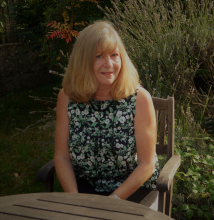 Helen Matthews writes page-turning psychological suspense novels and is fascinated by the darker side of human nature and how a life can change in an instant. Her latest novel The Girl in the Van will be published on 17 March by Darkstroke Books. Previous novels include suspense thriller After Leaving the Village, which won first prize in the opening pages category at Winchester Writers' Festival, and was followed by Lies Behind the Ruin, domestic noir set in France, published by Hashtag Press. Her third novel Façade was published by Darkstroke Books in 2020.
Born in Cardiff, Helen read English at the University of Liverpool and worked in international development, consultancy, human resources and pensions management. She fled corporate life to work freelance while studying for a Creative Writing MA at Oxford Brookes University. Her stories and flash fiction have been shortlisted and published by Flash 500, 1000K Story, Reflex Press, Artificium and Love Sunday magazine.
She is a keen cyclist, covering long distances if there aren't any hills, sings in a choir and once appeared on stage at Carnegie Hall, New York in a multi-choir performance. She loves spending time in France. Helen is an Ambassador for the charity, Unseen, which works towards a world without slavery and donates her author talk fees, and a percentage of royalties, to the charity.