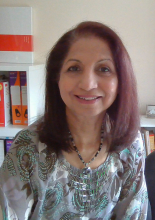 Originally from India, Jay and her husband now live in Worcestershire with their very spoilt cat, Sooty.
Lethal Justice, her debut novel, is the first of a planned series. Set against a backdrop of Southampton in England and a fictitious town in India, the book is a fusion of two cultures and beliefs. It also brings together Jay's love of crime thriller/police procedural and fantasy/horror fiction.
Her second submission, The Assassin Who Loved Me, was born during a short crime writing course and has now fledged into an action packed crime thriller.
When not writing or reading, Jay enjoys playing computer games, painting and cooking (except desserts – please bring your own plus an extra portion for the hostess).