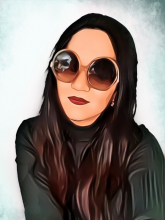 Junia Wonders is the author of the seasonal bestseller The Roll-Away Pumpkin, which has been translated into six languages.
Five of her picture books, namely, The Roll-Away Pumpkin, Zachary and the Great Potato Catastrophe, The Night the Monsters Came, Have You Ever Wondered What You Will Be?, and I Love You Through Winter, Spring, Summer, and Fall received 68 literary awards altogether in 2021 and 2022, including two prestigious Moonbeam Children's Book Awards, two Nautilus Book Awards, and an IPPY Award.
Junia has a fondness for tales filled with wonder and whimsy. Her stories aim to entertain, uplift, and inspire.
When she's not concocting a tale, you might catch her whispering to dragonflies, chasing rolling pumpkins, traveling the world with a giant wheel of cheese, or simply having a cup of tea and cake with a clever little rat, a lonely pony, some school kids, and a bunch of retired neighbors.
She lives in a home filled with books, spices, music, and magic. Not the potion-making kind. For her, magic is what happens when you truly believe in yourself.