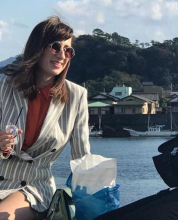 I am a Croatian-Australian emerging writer who writes fiction in both English and Japanese, having studied the latter as a foreign language since the age of twelve.
I studied a Bachelor of Political Economic and Social Sciences with an additional major in Japanese Studies at the University of Sydney and now work in international business development for renewable energies.
In my free time (apart from writing) I enjoy reading across classic and contemporary literature, with some of my favourite writers being: Oscar Wilde, J.R.R. Tolkien, Osamu Dazai, Heather Walter, Fiona Barton, Haruki Murakami and Philippa Gregory.
I first entered the Page Turner Awards in 2021 and placed as a Finalist for the Writing Award. Since then my work has also appeared in an anthology of poetry and prose, 'New Contexts: 3', from UK independent publisher Coverstory Books.