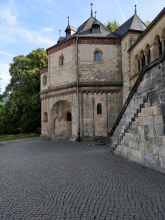 Lara Byrne is a part-time marketing manager, with a PhD in 20th-century literature and a passion for medieval history.
Lara's debut historical fiction Lotharingia made it to the Page Turner Awards 2020 Shortlist and was a 2020 I&I Judges' Favourite. The Road to Canossa is her second novel.
Lara is a mentor to women-led business startups and a girls' football volunteer. She adores travelling and has visited most of the settings of her stories. Lara's other great passion is yoga.