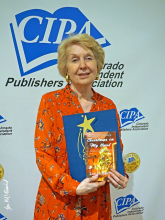 Leslee Breene, international award-winning author of novel and short fiction, takes pride in being a Denver, Colorado native. Her five published historical and contemporary women's fiction novels and one Christmas short story anthology may be found on Amazon.com and Barnes and Noble.com.
During leisure time away from the computer, she's enjoyed scouting for book settings in Leadville, Georgetown, and the Colorado Sand Dunes, and numerous road trips to Jackson Hole, Wyoming.
Ms. Breene is a former member of the Romance Writers of America, Colorado Romance Writers, and a current member of Women Writing the West. Her short fiction has been published in various anthologies and literary publications. She welcomes visitors at her website: www.lesleebreene.com. Her Facebook page is a go-to meetup with old and new friends.