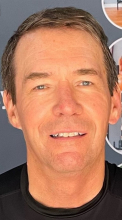 Len Joy's 4th novel, DRY HEAT was published by BQB Publishing in April 2022. New York Times bestselling author Nickolas Butler described it as "…a page-turner with heart. A tale of star-cross lovers and best-laid plans run amok, this smoothly novel is full of friendship, family, and redemption." It is a Book Excellence and Literary Titan Award Winner.
Len Joy's 3rd novel, EVERYONE DIES FAMOUS was published by BQB in August 2020. KIRKUS described it as a "…a striking depiction of small-town America at the dawn of the 21st century."
Kevin Wilson, NY Times bestselling author of Nothing to See Here and The Family Fang had this to say: "Len Joy's Everyone Dies Famous is a clear-eyed examination of how we live in an uncertain world. By creating imminently understandable characters and skillfully linking them to a specific landscape, one that is so evocatively described, he shows us all the ways in which we're connected, how fragile those threads are. In clear prose, Joy does real work here. I'm grateful for it."
Joy's first novel, AMERICAN PAST TIME was published in 2014. KIRKUS praised it as a "darkly nostalgic study of an American family through good times and bad, engagingly set against major events from the '50s to the '70s as issues of race simmer in the background…expertly written and well-crafted."
His second novel, BETTER DAYS (2018) was described by FOREWORD Reviews as "a bighearted, wry, and tender novel that focuses on love and loyalty." KIRKUS called it "a character-rich skillfully plotted Midwestern drama."
AMERICAN PAST TIME and BETTER DAYS were the 2019 Readers' Favorite gold and silver medal award winners for Fiction – Sports.
Len is an All-American triathlete and competes internationally representing the United States as part of TEAM USA.
He lives with his wife, Suzanne, in Evanston, Illinois.