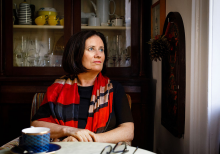 MADELEINE D'ARCY is a fiction writer based in Cork City, Ireland.
Her linked short story collection, LIBERTY TERRACE, was published by Doire Press in October 2021.
Her début short story collection, WAITING FOR THE BULLET (Doire Press, 2014), won the Edge Hill Readers' Choice Prize 2015 (UK).
In 2010 she received the Hennessy Literary Award for First Fiction and Hennessy New Irish Writer Award.
She has an MA in Creative Writing (UCC) and is a qualified solicitor.
She co-curates Fiction at the Friary, a free monthly fiction event in Cork City, with fellow-writer Danielle McLaughlin.
Further information is available at madeleinedarcy.com.