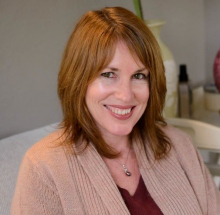 Michelle Vernal writes stories that will take you onto the page with her characters and make you feel part of their lives. She writes with humour and warmth, and her readers describe her books as unputdownable, feel good and funny. She lives in Christchurch, New Zealand, with her husband, two teenage sons and attention-seeking tabby cats, Humphrey and Savannah.
Michelle has written for various parenting magazines, a lifestyle magazine and penned numerous novels. In 2015 she was shortlisted for the Love Stories Award and, in 2020, won the Reader's Favorite Gold Medal Award for Chick lit.
Before she started writing novels, she had a variety of jobs:
Pharmacy shop assistant, the girl who sold dried up chips and sausages at a hot food stand in a British pub, girl who sold nuts (for 2 hours) on a British market stall, receptionist, P.A…Her favourite job, though, is the one she has now – writing stories she hopes leave her readers with a satisfied smile on their faces.