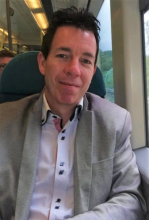 Mikey Jackson is a versatile scriptwriter and novelist from the seaside town of Worthing, near Brighton.
He was a finalist in last year's Page Turner Awards for his psychological thriller novel Shards of Glass.
His TV drama spec script Seven Magpies earned him a place as a finalist in the Amazon Studios & TriForce WriterSlam. During the event, an excerpt of his script was performed script-in-hand live by actors from EastEnders, In The Long Run, Sarah Jane Adventures and Casualty.
His supernatural TV drama spec script So Wicked made the final of The Script Lab Screenplay Contest 2023.
Mikey is currently seeking a literary agent for both his novel writing and scriptwriting.
Also, he has no idea why he has written this bio in the third person.