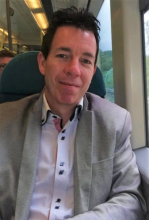 Mikey Jackson is a versatile scriptwriter and novelist from the seaside town of Worthing, near Brighton.
His TV sitcom Listen, Dr Woo was previously in development with Sen Creations. Actors attached included Ozzie Yue, Pik-Sen Lim and Dave Wong.
His TV drama spec script Seven Magpies earned him a place as a finalist in the Amazon Studios & TriForce WriterSlam. During the event, an excerpt of his script was performed script-in-hand live by actors from EastEnders, In The Long Run, Sarah Jane Adventures and Casualty.
His TV drama spec script So Wicked was placed in the top 20% of submissions in the All3Media New Script Award 2022.
Last year, he was a finalist in the Page Turner Awards for his psychological thriller novel Shards of Glass.
He has also written comedy sketches for BBC Radio, The Comedy Unit and UrbanBlaise TV, as well as being a team writer with long-running topical theatre sketch shows NewsRevue and The Treason Show.
Mikey is currently seeking a literary agent for both his novel writing and scriptwriting.
Also, he has no idea why he has written this bio in the third person.