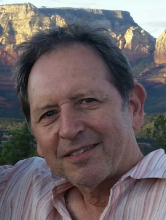 Peter Trivelas recently completed a first novel and is creating a collection of short stories. His fiction has appeared in Deadly Writer's Patrol, Blood & Bourbon, Thema Literary Journal, The Sunlight Press, Dime Show Review and various anthologies. In 2021, he was included in a special edition of WordTheatre, the premier global internet spoken word program. Peter is a graduate of the San Francisco Art Institute and is a longtime member of the UCLA Wordcommandos creative writing workshop for veterans.
Grass Through Pavement began as short stories about Peter's experience in the Vietnam War. The stories were linked together and developed into this semi-autobiographical novel. Grass chronicles a journey that was shaped by Vietnam but grew to be so much more.
Trivelas's career began as a television editor at WGBH in Boston. After moving to New York City in the 1980s, he was a staff editor at several television networks and became a member of The Writers Guild of America, writing copy for ABC News. The documentary he edited, The Men Who Brought the Dawn, about the surviving crew members who bombed Hiroshima, is in the Smithsonian Institute archives. He was an editor on The Martha Stewart Show which won seven daytime Emmys during his stint there.
Peter Trivelas graduated high school from The Albany Academy military academy and served in the US Navy in Vietnam on the USS Intrepid aircraft carrier as a Photographic Intelligence Petty Officer. After earning his BFA degree in Filmmaking, he worked for 25+ years in the television industry—editing, writing and producing for all the major networks and a variety of production companies.
He has traveled extensively, circumnavigating the globe five times, so far.