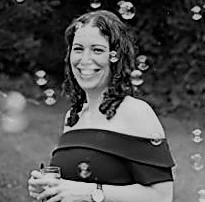 Awakening is my debut adult fantasy novel, the first in The Transcendent Saga trilogy. It is a compelling tale of love, sacrifice, emergence and magic, and about living with the choices we make. This book fills a gap in the bookshelves by utilising a contemporary setting, furnished with the worldbuilding and characters of epic fantasy.
I've been in love with books ever since, as a wee girl, I can remember my mum reading me the BFG (and doing all the voices). Although I enjoy many genres, fantasy holds a special place in my heart. From the rich worldbuilding to the complex political and magical systems they contain, fantasy offers the freedom to create unique cultures with which to view a multitude of subjects.
I love connecting with other authors wherever I find them, be it online or in person, helping to grow the writing community and making it a safe, supportive space for all. As an organiser for QuaranCon, the online SFF convention, I've been privileged to work with some amazing people.
Besides novels, I write short stories and articles, and work regularly as a ghostwriter. I am an Associate Member of the Society of Authors and the CIEP.
I live in Glasgow with my partner and three cats. When I'm not writing or edting, I can be found in my allotment, usually covered in mud.