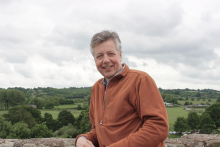 Rob McIvor grew up mainly in south Lancashire but now lives in Blackheath, south-east London, with his family and two unruly cats. He has some of his best ideas for stories while riding bikes, sometimes over ridiculously long distances. Unfortunately, as he has yet to master balancing while making notes, he has often forgotten them by the time he gets home. His debut novel, inspired by an idea that he did manage to remember all the way to the top of a French mountain road, aims to challenge the idea that honesty is always the best policy, weaving together a mysterious death during the Tour de France, a school's remarkable exam results and family secrets, past and present.
Rob wrote a lot as a child but let it drift when working life took over, partly because a large part of his job was writing articles and speeches for other people, which took away the pleasure of putting words together. One morning, while on his way to work, he learned in a very painful way that delivery vans and bicycles don't always play nicely together and, after surgery and physiotherapy, decided he wanted a better balance in his life and began writing creatively again.
Since then, he has had several short stories and some non-fiction pieces published, both online and in print. Two of his pieces – Hope Grows, (https://cabinetofheed.com/2020/04/08/stream-of-consciousness-drawer-two/) about the sudden spurt in men growing beards during the first COVID lockdown, and Cold Comfort, (https://cabinetofheed.com/2020/07/02/cold-comfort-rob-mcivor/) about a pair of lovers trapped on a chairlift in a ski resort – were published on the Cabinet of Heed website. Late Lunch, about a divorced couple having to meet for the first time in twenty-five years ahead of their daughter's wedding, was published in the EllipsisZine anthology She Cries Honey and Voiceless, about a living person trapped in a dead body, made its appearance in the TL;DR anthology of horror stories Nope 2. His story Children of the Moon (http://tldrpress.org/index.php/1kwhc-flash-fiction-winner-children-of-t…) was winner of the TL;DR Herd Flash competition and published in the anthology Endless Voices and A Shoebox Full of Love Letters (https://www.retreatwest.co.uk/a-shoebox-full-of-love-letters/) was a runner-up in the quarterly Retreat West Themed Flash competition in September 2020. May Your Days Be Merry and Bright (https://www.fairlightbooks.co.uk/short_stories/may-your-days-be-merry-a…)
was one of four seasonally-themed stories published by Fairlight Books in December 2020.