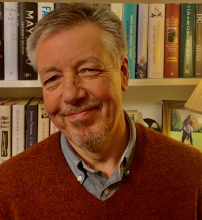 Rob McIvor grew up mainly in south Lancashire but now lives in Blackheath, south-east London, with his family and two unruly cats. His debut novel, a 2021 Page Turner Awards finalist, argues that honesty isn't always the best policy, weaving together a mysterious death during the Tour de France, a school's remarkable exam results and family secrets, past and present. His second has been entered for the 2023 Awards (so no spoilers here) and his third is approaching completion.
Rob trained as a journalist and then spent far too many years writing articles and speeches for other people. One morning, while on his way to work, he learned in a very painful way that delivery vans and bicycles don't always play nicely together and, after surgery and physiotherapy, decided he wanted a better balance in his life. He still writes words that will appear under other people's names - but only when he chooses to.
Among his published short stories, 'Children of the Moon' was winner of the 2020 TL;DR Herd Flash competition and published in the anthology Endless Voices; 'A Shoebox Full of Love Letters' was a runner-up in the quarterly Retreat West Themed Flash competition in September 2020; and 'May Your Days Be Merry and Bright' was one of four seasonally-themed stories published by Fairlight Books in December 2020. These and some of his other published stories can be read on his website: www.robmcivor.com.