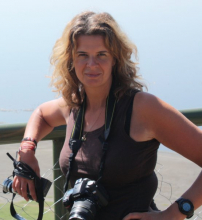 Ruth Millington is an award-winning writer, passionate adventure world traveller, and creator and host of Ruth Millington's Extreme Holidays Podcast which was rated in the top 10% of podcasts worldwide within two weeks of its launch in September 2021.
Read it here: https://bit.ly/39mltgK
She has a Masters in Writing from Sheffield Hallam University. She is also a qualified solicitor. Prior to becoming a writer, she worked as a finance lawyer in The City of London.
In 2003, Ruth was a Christmas visitor to Bam in southeastern Iran. On Boxing Day a magnitude 6.5 earthquake hit the city. The quake destroyed 90% of the town and eventually led to the tragic deaths of over 26,000 Iranians. Ruth was staying at a local guesthouse which was levelled to the ground by the quake. She awoke to find herself in the rubble. Over the following thirty hours, she – with others – went on to rescue at least seven further survivors with her bare hands. Ruth was honoured for her efforts by multiple governments. She also went on to become a director of a charity to help children orphaned in the disaster.
In 2014, Ruth returned to her hometown of Sheffield, England to study for her MA in Writing at Sheffield Hallam University where she completed Aftershock, her debut multi-award-winning memoir about the Bam earthquake. The memoir earned her a Distinction and went on to win an accolade at the Off the Shelf Novel Slam 2018. Extracts have been published in two separate editions of Matter Magazine (a compilation of the best students' work at Sheffield Hallam).
Aftershock has also been honoured with the following literary awards:
- 2021, Page Turner Awards, Writing Award for non-fiction – winner
- 2021, Yeovil Literary Prize, Writing Without Restriction Award – shortlisted
- 2020, Mslexia Memoir and Life-Writing Competition – finalist/runner-up
- 2019, Northern Writers Awards, NorthBound Book Award – shortlisted
Over the last 30 years, her solo travels have taken her to more than 100 countries and she has lived in China, Nepal, Thailand, Australia and San Francisco. She has journeyed to some of the remotest areas of the world, survived one of the deadliest earthquakes to hit Iran, been chased by a wild rhino and a herd of elephants, held at gunpoint by the Khmer Rouge, trekked across some of the world's highest mountain ranges, contracted dengue fever and lost half her hair, and accused of being a spy. She has been a travel tour leader and editor. She tutors in life-writing and is an advocate for women's rights and opportunities. Considered a role model for young girls and women, Ruth also speaks at schools across the UK about her travel adventures and career choices, in turn challenging gender stereotypes around bravery, heroism and strength.
Ruth has been honoured with bravery awards from the Royal Humane Society, Vodaphone Life Savers, and is a recipient of a Gold Medal with Red Ribbon from the Austrian government.
She has been interviewed by and spoken about the Bam earthquake, survival, trauma and mental health on numerous media outlets including the BBC Ten O'Clock News, BBC News 24, BBC World, BBC Breakfast News, SKY News, Radio 4, Radio 5 Live, BBC World Service, BBC Radio Scotland, and featured in Reader's Digest, Lonely Planet, Saga Magazine, Psychology Today, The Times, Independent, Guardian, The Sun, Daily Express, Sheffield Star and the BBC website. She has also been the subject of a BBC documentary covering her return to Bam a year on after the earthquake, and a six-page feature in Polly Morland's book: The Society of Timid Souls or How to Be Brave.
Ruth lives on the edge of the Peak District National Park with her cat, Mackie – her biggest fan and critic.
She is currently working on her next travel memoir.