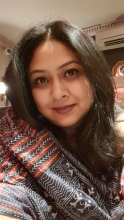 Hello, my name is Shagufta Sharmeen Tania, I'm a native of Bangladesh who has been settled in London since 2005. I initially trained as an architect, before writing became my all consuming passion. I've authored two novels, a collection of novellas and four collections of short stories to date; I also reinterpreted a set of classic Bengali folk tales, and have self translated ( Bengali- English ) many of my own pieces. My stories have appeared in Wasafiri, Asia Literary Review, City Press and a Speaking Volumes Anthology 'Not Quite Right for Us' and one of my stories have been accepted for Massachusetts Review Autumn 2022.
Currently, I'm working on a fictionalized biography of a celebrated musicologist, and a nonfiction based on the changes in cityscapes. I'm a co-founder of Sharothi Arts group, in which capacity I curate the literary and poetic texts used in our performances, as well as writing and presenting the linking narrations during the shows.
I was thrilled to become the youngest recipient of the Bangla Academy Syed Waliullah Award for outstanding contribution to Bangla literature in 2018. My short story 'Sincerely Yours' was long listed for the BBC Short Story Award 2021, and another of my short stories, 'What Men Live By' was short listed for the Commonwealth Short Story Prize 2022.