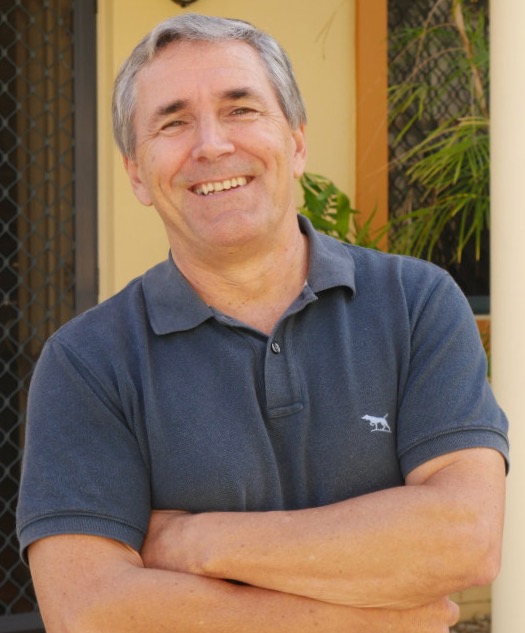 I live in Hervey Bay, a beautiful, quiet seaside city in southeast Queensland. My family escaped here from Palmerston North, New Zealand, after experiencing a family tragedy. We'd never been to Brisbane City, let alone regional Queensland. What was I thinking? 13 years later our children have left home while my wife and I still live in the eternal SE Qld, sunshine. Living the words, "it's an ill wind that brings no good", I wrote a book explaining an approach to life that brings instant CALM. Heaven or hell is a place called earth. Take your pick, this is your life.
Award Submission Title
SOIAMTHAT - A Losers Guide to the Galaxy
Logline
A phone call from a friend uncovers multi-generational sexual assault starting a sequence of events from heartbreak to resignation of homelessness and poverty. Only after surrendering to our fate does it become clear, heaven or hell is a place called earth. Choose carefully!
My Submission
Have I Gone Completely Mad?

I discovered our self-constructed prison, the "Ego Illusion" after what seemed like a lifetime of suffering. Traumatising events reinforced the belief that I was a spectacular failure, experiencing a living hell. Rationalising my woeful situation by succumbing to the ultimate excuse; I was a victim of my DNA. My destiny was out of my control, no amount of learning and positive thinking could change my genetic potential. The proof surrounded me. Rotten luck at birth damned me to the wrong quadrant of the four described by Florence Littauer in her book, Personality Plus. Her guidelines categorised me as a Peaceful Phlegmatic or the Dove, or in my mind the equivalent to the runt of the litter! I envied those guaranteed smooth passage through life, thanks to their genetically privileged dominant "alpha" type personality.

At that moment, scraping the bottom of the barrel, no respite in sight, I had no choice but to embrace my life exactly as it was, no expectations. Surrendering to this reality proved serendipitous, leading to a fundamental change in my view of life. The clue freeing me from the ego trap lay in my perceived life trauma. I was living a lie, victimised unwittingly by my thinking, powerless to change. From the beginning, we're taught life is a competition, designed so the best succeed. The rest are at their mercy; "to the victors go the spoils". From this perspective, individual autonomy depends on financial success. Now though, with a fresh perspective revealed, I was done with forcing life to happen in a certain way, pressured to justify the air I breathe. What a relief!

In the early 1980s, "kill or be killed" was an ascendant ideology. Social Darwinism appeared to intersect with popular economic policy. Sovereign nations embraced neoliberalism, aggressively implementing it globally; promising open participation and transparent distribution of wealth through free-market principles. Rewarding superior performance with individual prosperity, influence, and esteem. Greater competition would increase overall prosperity and drive the efficient allocation of resources, reducing the waste of both human and financial capital. Fresh out of university and wet behind the ears, I accepted this globally promoted dogma hook, line, and sinker! My life's worth now condensed into a set of performance indicators or KPI's.

My mind was fertile ground for this ideology. I experienced firsthand what failure in business had done to my family and my Parent's relationship. My late father was the firstborn in a fourth-generation family of six, from Carterton, New Zealand. By the 1950s he'd moved to Pahiatua, where his dad had opened and established a successful Men's and Womenswear store. After graduating from Wairarapa College, Masterton, he worked for a plant nursery, selling gardening supplies. Growing restless and motivated by his ancestor's deep roots in the protestant church, he soon left to train as a Methodist Minister. His first posting was Paeroa, a small town in the Coromandel where my second youngest brother was born, followed by Northcote, a suburb in NZ's largest city, Auckland, where mum had the last of my four brothers. In 1962 dad had the privilege of holding the inaugural service at the new Northcote Central Methodist Church, which is still in active service. At the time dad sympathized with the controversial views of Lloyd Geering, now Sir Lloyd George Geering (ONZ, GNZM, CBE) leading to his irreconcilable falling out with Church elders and our return to Pahiatua. Geering faced charges of heresy in 1967 for his controversial views, but later became Professor Emeritus at Victoria University, Wellington. He was knighted in 2001. Now 102, he still lives in Wellington, NZ (See Wikipedia).

I fondly recall travelling by steam train from Auckland to Palmerston North as dad's special companion. Mum and the rest of the family were following later. Back then, trains steamed down the middle of the main street, making for an impressive but sooty arrival. On his return to Pahiatua dad planned to open a gardening store, but initially he was employed by grandad in his recently completed clothing store. He soon achieved his goal, opening "Sure-Gro Garden Supplies" in 1964. Mum and dad operated this weather-dependent business throughout the 1960s, so after school, my brothers and I called the shop home. Opening another gardening supply store in town created some controversy with the other operator. I overheard a conversation between dad and the owner of the established store, threatening that he'd eventually force dad into bankruptcy. True to his word; a major drought in the summer of '69 forced permanent closure, beginning a chain of events that would forever change our family's future. I recall being in the deserted store while dad and the man who'd made the threat several years before, negotiated a sale of the remaining stock that was once part of a dream he'd realised, a devastating failure he never recovered from. Children aren't immune from the sense of gloom that descends with the death of a parents dream, the accompanying feelings of grief being as real as those experienced with the passing of a loved one.

Business failure is accompanied by major tangible and intangible change. Our family home, lovingly planned and built 7 years earlier, was sold to cover outstanding debt, so we became renters again. Rental accommodation for families in NZ is not a stable, long term living solution, so shifting homes at least once a year became our new normal. Considering these events occurred in a modern, capitalist economy, unsurprisingly we joined the ranks of the poor. Urgently requiring an income, dad immediately traveled to Auckland to secure work (and maybe to escape the shame he felt). He sought employment at Hugh Wright Ltd, a popular menswear store founded in 1904. Wrights had no vacancies, but dad persisted and although Hugh Jr was a tough nut to crack, somehow he secured a permanent job. In April 1970, during my second last year of primary school, mum, dad, three of my four brothers and I traveled the 600km, by overnight train to Auckland. My eldest brother (16) had finished college and stayed behind, boarding with friends. We rented a house in Sein Road, Milford; a growing suburb northeast of Northcote, though our new life was anything but sane. I attended the recently opened Takapuna Intermediate where classes were collegiate style, with an unfamiliar system of rotating classes and teachers. I was used to one room, one teacher for an entire year. There was another surprise awaiting me after school, buses were the only transport home. It seemed like there were more buses than children. Inevitably in my panic and confusion I caught the wrong one. After travelling well away from my route home and now lost, I decided I better get off. Retracing my steps as well as I could, when I'd all but given up finding my way home, I saw the friendly face of my elder brother, Lance, walking toward me. I had never felt so relieved to see him!

The rental house was small, having only two bedrooms, so my brothers and I slept in the same room. Every night, while we were falling asleep, we heard mum and dad squabbling, dredging up past issues and making accusations, leaving us feeling sad and anxious. Six months later, dad convinced Hugh Wright to open a branch store in Palmerston North, making him Manager. It overjoyed us to hear that we'd be moving south again, back to more familiar surroundings so our parents could again be happy. In August 1970, dad hired the latest Holden Kingswood, taking all six of us south, down the 9 hour, winding route from Auckland to Palmerston North (Palmy), so we could start a new term at our third school that year.

Palmy is wet, cold but fortunately flat. We had no car or bus service, so every day I'd ride three Km's too and from school in (did I mention) one of the world's windiest climates. Most days I wore a cheap, grey, thin plastic windbreaker that doubled as a raincoat; it was all we could afford. One specially cold, wet day I was walking to the school gate with my bike, when I was tapped on the shoulder, stopped and pulled aside by senior pupils in a random uniform blitz. Apparently my shitty, barely effective grey coat broke the school uniform code; black coats only. I obediently joined an impressive, several deep, lineup of other miscreants in front of the administration block. In my first year at Boys' High School, I was under-developed, and slight of build. Still, I defiantly defended my parents against this ridiculous, discriminatory rule. They were sacrificing to afford even this cheap protection against the elements, yet these administrative bullies were arbitrarily discarding perfectly good clothing, and worse, parading us soaking wet for being poor. However, rules are rules. They rubbished our coats, leaving us to ride home looking like wet rats. I didn't bother with a coat again, thinking mum didn't need additional financial stress.

My parents' relationship continued to deteriorate, and we saw less and less of dad. Sometime later, he explained this was his way of getting us used to him not being around. He left home for good in April 1974, four years after his business failure, leaving a negative impact on my view of the World (the only one that counts). I'm instantly transported back to that summer of 1974 when happiness and hope turned to grief, when I hear dad's favourite album, Neil Diamond "Hot August Night (Live at the Greek Theatre)", illustrating the power of subconscious memory to bring past feelings into the present, given the right cue.

I always tried my best at school; it was a way of giving back to my parents, to acknowledge the hardships they were enduring on my behalf. Every school lunch break I ate all the soggy sandwiches in my lunchbox, regardless of whether I was hungry. I knew the love, effort and financial sacrifice mum put into making them. That changed with dad's departure, my motivation to achieve left with him; after all, nothing breaks like a heart! I'd managed above average results in High School, now though, because of my anger at what the world was doing to me, and the shame of losing one of the two people I most loved, my results tumbled. Their separation occurred at a critical point in my education. In the 1970s, third-year secondary school students had to sit a national exam to achieve the School Certificate. Giving employers a nationally consistent, relative measure of the next batch of school leavers or prospective employees. Students were examined under strict supervision on five core subjects, considered crucial to the country's continued economic growth. For the average student with no aspirations to attend university, these examinations were advertised as the culmination of their education. Exam performance would determine future employability and success. The pressure to perform was suffocating. Until dad's departure, I graded in the upper quartile in all subjects, after I couldn't be bothered with school, which showed up in my results, barely passing three of the five core subjects. Not the best finish to my educational climax!

Psychologists say that children benefit when unhappy couples separate. Apparently separation removes their major source of stress; constant anxiety generated by the disruption to their core beliefs surrounding their family identity. I disagree, the effects of my parents' separation were significant. Children in their early to mid-teens suffer lasting damage, that a younger child having more time to reconstruct a happy family history may not feel. Teenagers are naturally self-conscious and strive to fit in with their peer group. For me there was a lot of perceived shame that came with poverty, magnified by being part of a broken home. I believed these events were personally significant and haunted my life for decades. Through the ignorant application of thought, without conscious intervention, past decisions continue to influence our quality of life in the present.

To make ends meet, mum got a job at a nearby nursery, a business she had learned in the happier days of "SureGro" back in Pahiatua. Mum remained in the nursery business until she retired and even now at 86, we pick her brain for gardening tips. With help from my nearby brothers, she still maintains a well-tended, colourful summer garden. Out of necessity, she took on additional work Saturday evenings, catering at a renowned wedding venue, the Chalet, and every Sunday we were treated with the renowned leftovers! Despite her pioneering family work ethic, mum didn't earn enough to meet the rental payments on our house, forcing us to move for the fifth time in five years. We were moving into a government or "State" house, which for me confirmed our total fall from grace. In my teens we'd always rented, but this was different, private rentals looked like any other house in the street, there was no stigma attached to them. To me, living in a state house was like wearing a scarlet letter, making me the equivalent to the children's home "maggot". Now a senior at high school, I saw this as the ultimate shame. As it was, I had few friends and definitely no girlfriend. This move meant that wasn't about to change. I wouldn't be bringing anyone around to this place! I should have been thankful to have a roof over my head, but when I learned where we'd be living I turned red with rage, lashing out at the wall in frustration, leaving a hole and worse, upsetting mum. Life descended to a new low, my ego was well and truly ground to a dust!

Fortunately, I scraped through with enough marks to make it into the next school year, when I would hopefully redeem myself. I lifted my game for fear of having to leave school to join the adult world of work, deciding university was an easier option. At least living the hermit lifestyle at home gave me plenty of study time. In the 12th grade I applied myself enough to be accredited in all five core subjects, meaning my internal exam results excused me from having to sit national University Entrance exams! I passed again in my last year, achieving a nationally recognised "B Bursary", a financial award to assist with tertiary education costs. Finally, I was shot of secondary school.

Childhood disappointment drove me to escape a life of poverty, free from the control and judgment of others, but first, I had to conquer my feelings of inferiority. I diligently followed the techniques and ideas in popular self-improvement programmes. Still, nothing changed. The harder I tried to make life give me what I wanted, the less likely it seemed I could achieve it. Frustrated with repetitive failure, I questioned my ability to reach my definition of success. Pain and suffering were the only abundances manifesting in my world. This is particularly true when you fall outside what society considers a desirable level of productivity. The contemporary free-market ideology, with its flawed idea of fair competition promising reward consistent with effort and enterprise, works if you fit within the statistically normal part of the population. Fall outside these norms and you're on your own. Social welfare programmes cut below the costs necessary to survive with any dignity. Imposing a State-sanctioned punishment for economic failure, regardless of how this arose. In my family's experience, society's concept of survival of the fittest was alive and well, we were feeling its full effect! The fear of not being able to make ends meet, provide a secure, warm home in my native country, or even have enough food was a constant stress.

This condition remained until I realised that grace can't be learned, it's allowed. Grace was trying to find me. All I had to do was stop resisting events I labeled as bad, as if they were a personal punishment. I needed to accept that life is not personal and challenges are the rule, not the exception. Nothing will ever be the way I want it to be, as it is already the way it must be right now; no amount of resisting will change it. My solitary role as an objective being is simply to be at one with what is happening around me, accepting all that I encounter without judgment. I had to reach the point where I recognised that "all is as it is meant to be right now" "the universe around me and in me is expanding perfectly for the benefit of us all" and to "see it, don't be it". In the song "The Climb", Mylie Cyrus sings, "there's always gonna be another mountain". Accepting mountains or challenges as a normal part of life releases us from a state of constant anxiety caused by the childish belief that everything around us is at odds with how we need it to be. Believing happiness depends on specific results, means we're always fighting battles and climbing mountains imagined into our life. The universe doesn't care about how we think it should be, despite our protests it moves in synchronisation with each recent discovery of what was always possible.

Our worldview, formed and embedded in our subconscious through an education received in good faith, arose from a process of progressive, iterative evolution. This process was the essential path to reveal today's experience. Being children, we're naïve spectators in this process, moulding us to fit planners' vision of the future. Eventually, what we're taught as enduring truth in childhood is swept aside, changed and replaced by the continuous flow of creative revelations leading to a new vision. Naturally evolving until it's endemic in the lives of following generations, causing generational anxiety. We're never accountable to anyone for the shared memes promoted by the vision of our childhood, they are there despite us. Therefore condemning seniors for their unconscious habits arising from the vision, expecting remorse and reparation, is a response of an equally sleeping mind. Both past and present generations are unwilling to accept that there is no right way, only today's way, blissfully unaware that the way things are today is fluid, not fixed. Seniors express bewilderment. The world they were at ease in has evaporated, now only existing in their collective imagination. Their experience and skills no longer relevant, they find refuge in memories created when they were in their prime. Daydreaming aimlessly, in preference to dealing with their rising anxiety over the increasingly frightening, unfamiliar reality of this moment. The inevitability of death confirmed by an unavoidable, finite timeline. Some end up in secure hospital wards, permanently lost in their memories, out of touch with the physical world, longing to be back in a time when they belonged. The trouble is they are using Operating System 3.0, in a world that's advanced to Operating System 16.0, cheated by an obsolete education system. Taught to think in a way at odds with the infinitely changing world, continually being inherited by new, shiny, human machines.

How do we end up so far from the reality faced in the present moment? We all have an expanding storehouse of memories, a series of interconnected neural pathways proportional to our elapsed, objective timeline. Creating the illusion of unified form and consciousness moving through an identifiable past into an imagined future. As if we're a single grain of sand flowing through an hourglass consuming our finite, objective resource of 80+ years, getting closer and closer to the end. The impression of continuity is illustrated by stop motion graphics. An animated stickman, comprising a deck of separate, slightly unique pictures, rapidly played in sequence appears to be a single moving object, rather than 50 static drawings on 50 separate cards. Equally, independent memories masquerading as interdependent events progressing through time, trick us into believing our life is a continuous, objective movie with an inevitable ending (with or without a list of credits). A concept of time limiting today's experience to the accuracy of our interpreted meaning of the past.

Core beliefs arise from our earliest decisions of who we think we are, enduring throughout our personal timeline or life, influencing today's decisions. Time decay arouses feelings of urgency and regret, believing our next moment contains less opportunity than the last. Reinforcing the implied perception that life is a competition to secure and accumulate scarce resources before we run out of vitality and time. This attitude of scarcity creates a fear of living; what if we make the wrong choice only to waste another one of our limited opportunities to achieve success? It's not surprising we have an epidemic of decision anxiety, regret, and self-criticism. With this learned attitude to life, fear of missing out becomes a self-fulfilling prophecy.

Date stamping memories creates an illusion convincing us that elapsed time applies to both objective and subjective reality. Hypnotised by this collective understanding of time and its positive correlation with our changing bodies, we extrapolate physical aging, assuming holistic cause and effect to our mental capacity. Meaning our existential mind must be being depleted and exhausted in the same way as our essential body. Yet they are independent; that which is earthly is finite while that which is heavenly is universally infinite and interlaced. While age is true regarding the body, it is not regarding the mind. Being conscious of this is to see that you are eternal, and death is an illusion.

We accept the statement that "you can't teach old dogs new tricks" because we are all unconsciously living in the streets of an ego town called `Deception". Ego comprises linear streams of experience, arising from events unconsciously interpreted on a continuum from empowering to limiting. We believe these streams, or vivid memories have actual form, representing who we are, embracing them like priceless possessions. Yet they only represent who our ego has made us. Trapped in a labyrinth of self-constructed alleys, increasingly isolated from the only truth, the actual moment that is now. The longer we've walked Deceptions streets, the safer and more familiar they feel, so harder to escape. Stuck in our comfort zone, an endless loop limiting our possibilities. Meaning our present experience is unconsciously conditional on past performance, locking us into a future repeating the past, "Groundhog Day" without the iterative growth. Some of these memories draw us back into reliving events we regret or would rather forget; punishing us, as if they are happening again, right now. Habitually bound to this past, we're oblivious to pure real-time sensory feedback, leaving chunks of our life unaccounted for, giving the impression that time is speeding up.

The belief that our past binds us is an illusion, a thinking error, becoming more significant with time spent in the familiar embrace of unchallenged, learned childhood responses. The past is unreal, it can't bind us anymore than we can stop the ebb and flow of the tide. With the click of a finger its influence is easily erased, startling us from the comfort zone of memories that we unconsciously and unwittingly sink into, from sunrise to sunset. To escape "Stay Calm, Just Breathe and mind the gap". Until we're consciously aware of our ego and decide to break free of its control, life remains merely a habit created from repetition of the decisions we made from events experienced decades ago.

Have you experienced deja vu, an awareness that you're repeatedly tormented by the same problem? It's an alert that we're captured. Life is attempting to jolt us awake, freeing us of the ego's grip. Unconsciously delegating decisions to the ego

#nonfiction #spirituality #transformational #psychology #selfhelp