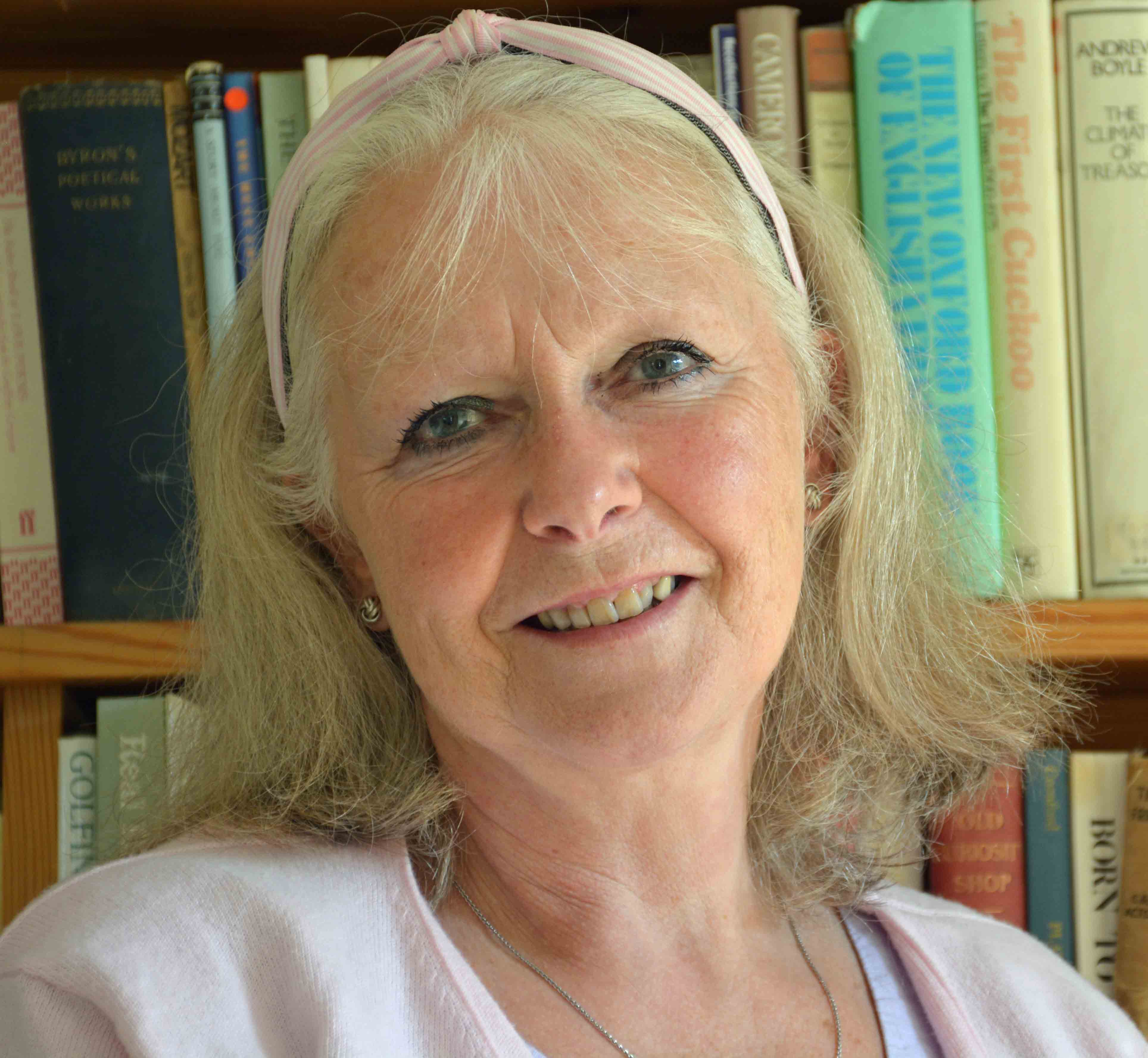 Reading and writing is second nature to me. It's as natural to me as breathing. To describe me as a bookworm is an understatement. I am never without a book, a pen, or a notebook in my hand or my bag. Throughout my schooldays, my friends teased me because I didn't want to play and could always be found sitting in a corner reading a book
The desire to write stories for children came out of reading so many wonderful children's books to my own daughter. Sometimes I would make up stories on the hoof and then scribble down notes afterwards. For me there is something magical about the age group 5 – 8 years. This is an age when good stories can really capture a child's attention. It is the age when we can inspire a love of books and reading in a child. This drives my passion to write stories to touch, charm and enchant the core of that age group. Stories that will encourage children to develop a lifelong love of reading.
My background? Well, many years passed working for Barclays Bank, (I was once horrified a client by saying I shouldn't really be working for a bank, as my character was too much like Tigger and not as it should be - a serious Mr Badger. Eventually the bank agreed, after much begging I might add, that my talents were better suited to their Advertising and Marketing Department. They put up with me for 18 years – Bless them!!) before circumstances allowed me to take up the mantle of sitting down to write. This began on a local newspaper and extended to writing stock obituaries for The Times, The Guardian, articles for The Lady and a regular gardening column for a regional magazine. That was 26 years ago when newspapers were only in print and not online. Since then my writing and creativity is mostly channelled in earning a living through freelance corporate PR & Marketing, copywriting and some ghost writing.

Award Submission Title
Tippi and the Fairy Who Forgot To Be Good
Logline
Tippi is a bright, but stubborn 6- year- old who wakes up two hours before dawn on Christmas morning to discover a hysterical Christmas Fairy called Pickles at the bottom of the bed and her stocking missing. Will Tippi find out what has happened before it's too late for Santa to visit?
My Submission
Story Age Group 5-8 years Chapter Book Series for Early Readers

Tippi And The Fairy Who Forgot To Be Good
Chapter 1
Please Be Morning Soon
Tippi Toogood jumped up and down in excitement. She skipped round her bedroom and hummed to herself as she swung her rag doll Mildred above her head. 'Don't you think I've been very good this year Mildred?' she teased.
'Stop swinging me about and I'll tell you,' Mildred scolded as she tried to hang on to her plaits.
Tippi ignored her and continued to skip about. 'I can't wait til morning I just can't,' she cried. Twice more she skipped round her room with poor Mildred flying about mid air.
'Tippi!' Mildred growled.
Tippi giggled, dropped Mildred on her bed and bounced beside her. 'Okay tell me!'
Mildred tutted and patted down her tartan pinafore dress. 'Look what you've done to me,' she grumbled.
Tippi laughed. 'Oh Mildred! Where's your happy face?' She leapt off the bed and did a twirl. Her white cotton nightdress swirled round her ankles. 'You can't be a grumblebum not tonight.'
'Hmmm!' Mildred glowered.
'Mildred! Pleeease! Have I been extra good or not?' Tippi tilted her head and fixed her wide brown eyes on Mildred. A dimple appeared on her left cheek.
'Well, okay I guess you have,' Mildred agreed at last.
'Oh! I have! I have! I know I have,' Tippi clapped her hands with delight. 'And have I been patient too?'
Mildred yawned, 'Alright yes – you've been patient too!'
Tippi giggled. 'I'm so excited!' She reached over her bed to pick up her Christmas stocking and with great care hung it on the white iron bedpost. She patted it down and for moment stood there and tried to imagine it bursting with presents.
Tippi clapped her hands again and skipped across the room to her special playhouse. It was a painted wooden wagon, which stood almost as high as her bedroom ceiling. She called it Daisy and she was the envy of all her friends. It stood pride of place opposite her bed so it was the first thing she saw when she woke up in the mornings. With a rounded bow top roof, it was painted bright red laced with gilt edging. Chains of daisies ran along the sides, broken by two small windows with green shutters and its two large wheels at the back and two smaller wheels at the front were coloured red with green spokes.
Tippi scrambled over the small wooden steps to the green front door. The books she had been reading to her toys and family of fairies were scattered on the floor. She picked them up and placed them in neat rows on the bookshelves that lined one side of the playhouse.
Tippi dusted off her hands and looked around. Everything was in its perfect place just as she liked it. Her notebooks sat in a tidy pile with her pencils lined up in a row on the small table under the windows. She hummed as she skipped over to the built in miniature bunk beds that ran along the back. It was here that every night she would put her toy friends to bed. She picked up Bruno her small brown dog with white paws and floppy ears. She gave him a big hug and placed him next to Mr Snowman.
'Make sure Bruno goes straight to sleep Mr Snowman,' Tippi instructed as she wagged her finger at Bruno and laughed.
Mr Snowman looked up at Tippi from under his blue felt hat and winked. Tippi blew him a kiss and gave one more glance about the room. She left the front door slightly ajar and scrambled back down the wooden steps. 'Mildred, everything is ready,' she called out.
Mildred didn't reply. She was too busy re-plaiting her hair. Tippi danced around her room. 'La la la la,' she sang.
'You'd better hurry up and get into bed. It's time we went to sleep,' Mildred muttered as she flicked both plaits back over her shoulders.
Tippi danced up to her bed and bounced up as she waved her hands about.
'Tippi!' Mildred scolded.
Tippi laughed as she dropped down, pulled back the covers and snuggled under the soft bedclothes. She reached for Mildred and placed her on the pillow next to her. 'Do you really think I've been good enough to get the special presents I asked for this year?'
'I'm sure you have Tippi,' Mildred replied with an impatient shrug.
Tippi looked over to her lattice window. She had left the curtains open. 'I want to make sure Santa doesn't miss me!' she replied.
'I'm sure he won't,' Mildred yawned. 'Now shall we go to sleep?'
'Okay and you do know why I promised to be extra good this year don't you Mildred?'
'Yes of course I do!'
'I hope he brings me lots of surprises! Goodnight Mildred.'
'Goodnight Tippi.'
Tippi closed her eyes and listened to the gentle tick-tock of Pip, her bedside clock. Oh, please, please be morning soon she thought.

Chapter 2
Something At The Bottom Of The Bed
Tippi's eyes flew open. What was that sound? A bright beam of moonlight danced through her window and caught her eye. She smiled and listened. Nothing. She snuggled back under her warm bedclothes then she gave a loud gasp. It's Christmas and Santa was coming! But why am I awake? It can't be morning it isn't light! Tippi wriggled her toes. She felt something at the bottom of her bed. 'Oh! Oh!' she exclaimed. 'It's my stocking! Santa has been!'
She was about to pull back her covers and leap out of bed when she realised there was something wrong. Had she only imagined she could feel something? She wriggled her toes again. She frowned. Why can't I hear the rustle and crackle of wrapping paper? How very strange. She nudged Mildred who was still fast asleep and had flopped over to one side. 'Mildred,' she whispered. 'Mildred, wake up! There's something at the bottom of the bed.'
Mildred didn't move. 'Mildred!' Tippi nudged her harder. Mildred stirred and mumbled under her breath. Tippi reached out for her hand and squeezed it.
'Ouch!' Mildred cried. 'What are you doing?'
'Sssh……' Tippi whispered again. 'There's something at the bottom of the bed.'
'Yes, it's your stocking silly,' Mildred muttered. 'And why are you whispering?'
'It can't be my stocking,' Tippi said under her breath as she clutched the bedclothes to her chin.
'It's too light and small – please look for me Mildred.'
'Let me sleep,' Mildred growled.
'Oh please Mildred!' Tippi gave her a little shove with her elbow.
'Why won't you let me sleep!' Mildred grumbled as she lifted her head and squinted. She could just make out a shape. 'It looks like a small pink present.'
'A little pink present? But it can't be! Where's my stocking?' Tippi cried out in horror. 'Mildred what shall we do?'
'I don't know!' Mildred snapped still annoyed Tippi had woken her up.
'Mildred…….,' began Tippi.
'Oh no Tippi you're awake!' squeaked a small voice.
Tippi gasped and clutched her bedclothes. She screwed her eyes shut not daring to move.
'Tippi,' squeaked the voice again. 'Tippi…..'
Tippi unscrewed her eyes. She peered towards the bottom of the bed. As she became used to the dim light, she saw a pink shape huddled by her bedpost. She blinked. Why, it's a tiny pink fairy! She wriggled up. 'Who are you?' she cried.
The tiny pink fairy looked up. Tears streaked down her face. Her long curly hair was matted and wild. She wore a pink band round her forehead with a star in the middle. It was crooked and out of shape and the star had lost its shine. Her pink satin dress with a white lace handkerchief hem was crumpled. The pink fairy put her head in her hands and began to sob. 'I've done a terrible thing,' she wailed.
Pip put on an important expression. His bright yellow face shone as he piped up in a chirpy voice,
'It's 5.30am on Christmas morning, two hours to daylight.'
Tippi threw back her bedclothes and scrambled to the bottom of her bed. 'Oh! What has happened? Where is my stocking? And why hasn't Santa been?' she gasped. She glanced round her room. Everything was just was she had left it the night before. Nothing had changed. Tippi bit her lower lip as Pip chirped up again, 'It's 5.30am on Christmas morning.'
'Oh ssshh Pip!' she cried as she grabbed him and turned his face to the wall. Her mind raced. Have I been naughty this year? Could I've forgotten I've been naughty? Is that why Santa's hasn't been? But I haven't been unkind to any of my friends she thought. I've been very helpful and polite to my teachers and done my homework.
This year I knew how important it was to be extra good. I even helped Mummy in the kitchen more than usual. Surely, Santa hasn't put me on his naughty list has he? Tippi turned back to the fairy who still lay in a crumpled heap. 'Who are you and what terrible thing have you done?'
The little pink fairy didn't answer as her shoulders heaved with sobs.
'And where's my stocking? Tell me, tell me!' Tippi wanted to know.
The pink fairy sat up, sniffed and hung her head but still she said nothing.
'Who are you?' Tippi insisted.
The fairy lifted her tear stained face and peeped at Tippi from under her long pink eyelashes. Her little eyes shone with tears. 'I'm Santa's special Christmas Fairy and I've forgotten to be good.'


Chapter 3
Where Is Tippi's Stocking?
Tippi couldn't believe what the pink fairy had just said. Hr mouth fell open in horror. 'You belong to Santa and you've forgotten to be good?' Tippi cried.
The pink fairy nodded and gave a loud sniff.
'But what has that got to do with me?' Tippi frowned as she fixed her eyes on the fairy. 'And why hasn't Santa been?' She looked round her room again. There has to be some mistake.
The pink fairy fluttered her tiny pink wings and began to sob again. 'Oh you'll never forgive me. Never! Never! Never!'
'Why won't I forgive you? What is your name?' replied Tippi.
The pink fairy sniffed. 'My name is Pickles and Santa has trusted me with the most important task on Christmas Eve and it's what all fairies long to do for Santa.'
'What most important job,' Tippi exclaimed as she leapt off her bed. 'And why won't you tell me if he's been?'
'He has been,' Pickles gulped.
'But where has he left my stocking?' quizzed Tippi with dismay. She fell to her knees and pulled up the bedclothes to search under the bed. Had the pink fairy played a trick on her and hidden her stocking? She heard Pickles flutter about her head. She sat back.
'Quick! Quick! You must get back into bed,' pleaded Pickles.
'I don't want to get back into bed! Why should I! I want to know what's happened to Santa,' Tippi replied. She wasn't going to let this little fairy boss her about. 'I'm going to sit right here until you tell me.' Tippi sat cross-legged on the floor and folded her arms with a 'huh'.
Pickles flew onto Tippi's lap and wrung her hands. 'Oh please get back into bed and I'll explain everything.'
'No, you tell me first,' Tippi insisted. 'And anyway what makes you one of Santa's special fairies?'
Pickles fluttered about the room and squeaked, 'Oh! Oh! Oh!'
This was too much for Tippi. She leapt up and stamped her foot. 'Tell me now!' she yelled as she tried to grab Pickles.
'Oh Tippi!' Pickles stammered and flew to the top of the bedpost. 'Don't frighten me and please whisper,' she pleaded. 'If you wake your parents it will be too late.'
Tippi froze. 'Too late for what?'
'Too late for Santa to come back,' Pickles whispered.
'What?' Tippi cried out in horror. 'Too late for Santa to come back? What have you done?'
'Please don't be cross. I will explain but first, please,' Pickles begged, 'We must check we haven't woken your parents.'
Tippi stomped around her room. 'It isn't fair,' she said. 'It just isn't fair and why should I!'
Pickles fluttered above Tippi's head. 'I know, Tippi I know, but we must hurry time is running out. And if we wake your parents it will be too late.'

Chapter 4
Is It Too Late?
Tippi slumped on her bed and sighed. She had to think fast. She didn't like seeing a fairy so upset especially a Christmas Fairy. Yet it seemed she was being punished for something she didn't do. She didn't want to be unkind either. But right now, all her careful plans were spoilt. She needed to know what had happened to her stocking and Santa. Out of the corner of her eye, she could see Pickles flit from one end of the room to the other as she wrung her hands. It was time to make up her mind. She jumped up. 'Pickles, you will tell me everything won't you – you promise?'
'I will tell you everything I promise, only please hurry,' Pickles squeaked. She flew up to Tippi and hovered in front of her face. Tippi gasped. 'Why Pickles! You've got one pink eye and one blue eye!'
'Yes,' Pickles sniffed. 'Every time I get into a pickle one of my eyes changes to blue. I always seem to get into pickles and tonight Santa gave me the chance to do something right for a change.'
'Oh, what kind of pickles do you get in to?' queried Tippi.
'I can't explain now we don't have time,' replied Pickles.
Tippi bit her lip. Why have I been given this fairy who gets into pickles and forgets to be good she wondered?
Pickles flapped her hands. 'Quick Tippi,' she begged. 'There's no time to lose. Please check we haven't woken your parents.'
'Alright, alright I'm going.' Tippi tiptoed to her bedroom door. With a gentle twist, she turned the handle and opened it just a little way. Christmas lights wrapped around the stair banisters sparkled and twinkled and a faint aroma of baking lingered in the air. She held her breath and listened. Silence. She pushed the door open a little further and slipped through the gap on to the landing. Without a backward glance, she gathered up her nightdress and fled down the stairs. She heard a faint flutter behind her.
'What are you doing?' shrieked Pickles.
Tippi put her finger to her lips. She reached the bottom of the stairs and ran across the hall to the sitting room. She peeped round the door, which was ajar. In the darkness of the room, the Christmas tree decorations glinted against the soft red glow of dying embers from the log fire. The Christmas tree had presents wrapped in colourful paper and red ribbon piled up around the trunk. Everything looks so pretty and magical Tippi thought. Pickles appeared over her shoulder.
'What are you doing?' Pickles shrieked again. This time a little louder.
'I want to see if Santa left my stocking here,' Tippi retorted as she crept round the Christmas tree.
'But of course he hasn't,' squeaked Pickles. 'Don't you believe me?'
'I just want to see for myself,' Tippi replied with a sulky glance at Pickles.
'Now, you're being naughty!' Pickles chided.
'No I'm not! It isn't my fault Santa hasn't left my stocking full of presents it's yours!'
Pickles flew up to the mantelpiece where she stood among a Christmas wreath of pinecones. 'I know but there's nothing here Tippi – you'll wake your parents.'
'I don't care!' Tippi said with a shrug.
'Please we must get back to your bedroom,' Pickles begged.
Tippi ignored her but knew Pickles was right. Her stocking was nowhere to be seen and what if she'd woken her parents? What would happen then? She turned to go and then stopped to look back at the Christmas tree. Without a second thought she reached out to pull off a chocolate decoration.
'Tippi!' Pickles swooped in front of her. 'You wouldn't!'
'Why wouldn't I? What's the point in being good?' Tippi sulked as she dropped her hand.
'But there is there is –you'll see!' Pickles begged. 'Quick we must get back upstairs!'
Tippi huffed and with one last glance at the Christmas tree tiptoed back up the stairs. As she reached the landing, she froze. Her heart beat fast against her chest. What if I've woken up Mummy and Papa she thought? What will they say if they see me here? She heard the flutter of wings over her shoulder. Pickles placed her ear against the door of Tippi's parent's bedroom. Tippi held her breath. Low snores reached her ears. Ah! Papa is fast asleep. What about Mummy she thought. No, it would take a lot to wake Mummy because Tippi knew she always went to bed very late on Christmas Eve. Pickles nodded to indicate everything was ok. Tippi slipped back into her bedroom with Pickles beside her as she nudged the door closed.
Pickles was about to speak when she noticed Mildred glaring at her.
'How could you!' Mildred hissed. 'I saw everything! How could you!'
Tippi ran over to her bed and picked Mildred up. She gave her a hug.
'Mildred! Tell me! What did you see?'
Mildred tossed her head and gave Pickles an icy stare. Before she could answer Pickles collapsed on the floor and burst into fresh tears.

Chapter 5
Why Children Never See Santa

Tippi gazed from Pickles to Mildred back to Pickles. Pickles tiny shoulders quivered as she sobbed into her hands and blurted out, 'I didn't mean to. I had been waiting for Santa for such a long time….'
'What are you talking about?' gasped Tippi.
'I'll explain! I'll explain!' Pickles cried. 'You see I've broken one of Santa's Golden Rules. I didn't mean to, I promise. I just forgot to be good.'
Pickles hung her head. 'I was waiting and waiting at the bottom of your bed. It felt like ages. I couldn't think what was keeping Santa. I kept looking at your beautiful painted wooden wagon. I have never seen a playhouse like it before so I told myself one peek wouldn't hurt – nothing more than a peek. It would only take a minute.'
Mildred scowled at Pickles. For a brief second Pickles forgot her tears and she poked her tongue out at Mildred. 'Haven't you ever done something you shouldn't have?' She quipped as she turned back to Tippi. 'It wasn't my fault I was bewitched.'
'Bewitched?' Tippi puzzled.
Pickles sniffed. 'Yes, your books in your pretty painted playhouse bewitched me……..' her voice trailed away.
Tippi stared at Pickles in horror. Santa hadn't left her any presents because the books had bewitched Pickles and she forgot to be good? This didn't make sense. Fairies weren't naughty, especially Christmas Fairies. Only children were naughty! 'But you're not supposed to be naughty,' she fumed.
Mildred nodded in agreement. Pickles gave her wings a forlorn flutter.
'I know but please,' she begged. 'Please listen. You see I just love reading – I'm just such a book mad fairy. I didn't mean to be naughty. But then it happened.'