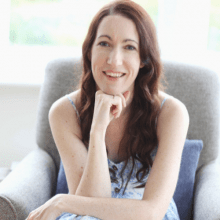 Diane Hopkins is a nonfiction book writing coach for creative and ambitious women who have transformational stories and expertise to share. She has also helped her clients create powerful speeches as invited keynotes speakers at big events including business conferences and United Nations events, TEDx, and TEDWomen.
A former university lecturer and researcher in Australia and then England, Diane transitioned from academic to entrepreneur, moving to Bali and starting her own coaching business. Prior to Covid-19, she lived nomadically, splitting her time between Bali, Europe, and Australia.
She has authored chapters in two book collections: 'Transformational Journaling for Coaches, Therapists and Clients' (Routledge, 2021) and 'The Great Book of Journaling' (Mango Publishing, 2022), and she was the editor of two self-published book collections: 'Activate Your Life: 50 Transformational Exercises from Coaches Around the World' and 'Activate Your Life Volume 2: 30 Exercises from Coaches Around the World'. She has also written articles for The Elephant Journal, and has been published in several peer-reviewed academic journals.
Diane is currently completing her first memoir, 'Chasing Tigers: One Woman's Search for Her Soulmate', sharing her sometimes humorous, sometimes heart-wrenching descent into anxiety while learning how to date after her marriage ended in the 2010's when relationships were becoming increasingly online, casual–and non-monogamous. She is also writing a second memoir, 'The Tiger is Me: Dating My Way Home', about the years she lived in the expat community of Ubud, Bali, trying to fix what was wrong with her, following the advice of all the New Age gurus, until she learned how to pay attention to the voice that counted the most: hers.