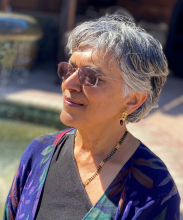 Dehradun-born and naturalized American research scientist, Neerja Raman has now assumed a new avatar as an iconic storyteller. Her latest book The House on East Canal Road (2022) has been praised both by the critic and the literati alike. Her debut fiction Moments in Transition: Stories of Maya and Jeena (2018) won Honorable Mention from Writer's Digest and was Finalist in International Book Awards, and Best Book Awards.
Neerja Raman, a pioneer in digital media science, was inducted into 2005 Hall of Fame by Women in Technology International. An unabashed geek (named '100 Women of Influence' by Silicon Valley Journal), she champions for women's rights in the workplace. She was born and educated in India, attended graduate school in New York, and relocated to the California when it used to be famous for orchards (i.e. and apple was an apple).
She nurtures hummingbirds and petunias with a zeal that rivals the passion with which she pens prose.
Web Page: https://neerjaraman.com/
Fun fact: Raman studied at an all-boys school, an all-women's college, and in New York lived in a non-gender-specific dormitory.
Details:
Moments in Transition: Stories of Maya and Jeena, debut fiction, was awarded 2018 Finalist for two categories: Best Book and International Multicultural by American Book Fest. It is a novella with twenty two interconnected stories about a woman who travels to a strange land for love and her daughter's conflict about growing up a hyphenated American. The short story Garden of People won 2017 Katha Honorable Mention.
https://www.amazon.com/gp/product/B078SHH758/ref=dbs_a_def_rwt_hsch_vap…
The Practice and Philosophy of Decision Making: A Seven Step Spiritual Guide (non-fiction), was inspired by tough women making tough choices in balancing work and family life. It develops a leadership and self-empowerment framework based on the concept of 'dharma'.
https://www.amazon.com/gp/product/1588989542/ref=dbs_a_def_rwt_bibl_vpp…
Raman has authored the following chapters for science reference books :
1) Eco-Stacking: A Strategy for Success in Social and Business Agendas, Information Age Publishing 2007, Innovative Approaches to Reducing Global Poverty.
2) Digital Provide: Education Beyond Borders, IGI Global Premier Reference Source 2011, Streaming Media Delivery in Higher Education - Methods and Outcomes
In addition, Raman has authored technical papers, essays and short stories. She maintains several blogs including DesiBooker for book reviews: https://desibooker.wordpress.com/
LinkedIn Profile: https://www.linkedin.com/in/neerjaraman/
Author Page: https://www.amazon.com/Neerja-Raman/e/B002BMB28Y%3Fref=dbs_a_mng_rwt_sc…
Visit her at neerja.raman-net.com