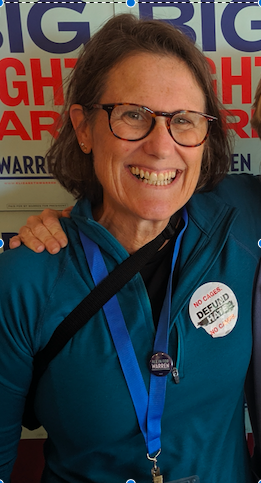 Elizabeth Goodhue is a freelance writer and blogger. When challenging a student to publish her work on a blog, Elizabeth also started one called ecgpoetry.blogspot.com. Since then she has written a blog about living and teaching in Mexico, and another about living and working in Kuala Lumpur. In Kuala Lumpur, she started her blog thetruthaboutdownsyndrome, which hatched into her memoir The Truth about Down Syndrome: Lessons Learned from Raising a Son with Trisomy-21. Her book is a series of vignettes about raising her son William, now 31 years old. It weaves their lives together and provides insight into her experience and growth as a mother, educator, and advocate.
Award Submission Title
The Truth About Down Syndrome: Lessons Learned from Raising a Son with Trisomy-21
Logline
A mother traces her personal journey beyond the maze of social, governmental, medical, and school bureaucracies that accompany people with different abilities. Her mission has always been to bust the stereotypes people create, not just around Trisomy-21, but around anyone with a difference.

My Submission
Ask that Your Way be Long
When I chose to have children, I had it all planned. They would nurse, eat healthy food, be as free-range as possible, live carefree lives, go to public school, which I would supplement with nature, art, hiking, and reading volumes of Laura Ingalls Wilder and The Lion, the Witch and the Wardrobe. My children would learn to notice the world with insightful eyes. I would engage in their lives while letting them gain as much independence as necessary to survive in this world.
I found out that life isn't so predictable when William was born.
I am no different than any other mother who recognizes that raising children is the most challenging thing a woman can face. Children bring out an extraordinary emotion that touches the core of a mother's spirit and body. William was no different from his sisters, Kate and Claire, in that way. Each child presented me with the challenge children do for working mothers – daycare, the perils of middle school, chickenpox, facing an animal's death. William's trials took more oomph on my part – hospitals, advocating for the best education he could get, and transitioning out of school into the world. I have grown used to the stares and outlandish statements following us around as if William is a curiosity. I may not have skirted the obstacles I had to face for William with grace, but I learned how to navigate the journey as each one presented itself.
William's entry into the world took all night – as if the universe was deciding whether to let him in or let him go. When he entered this world, he didn't cry. He paused, flopped over his folded legs as he would for most of the transitions he made later in his life before feeling ready for what came next. His pause hung in the air a little longer than felt right as if to say, "Wait a second. I need to think about this." If I had known William as I do now, I would have expected this. I would have been the first one to breathe.
Suddenly, everything became medical, and after some whisking, scooping, and juttering about, William started to breathe. The obstetrician broke the stillness in the room with his relief of having finished with his obstetrics. Nurses fluttered like fireflies stuck in a jar before they took William from me to inspect him and give him a shot of vitamin K. Even though the 8:30 morning sunlight should have broken through the dusting of snow we had that morning, the room stayed dark.
Welcome to Holland
Emily Kingsley, once a writer for Sesame Street, has a son with Trisomy-21. In her 1987 essay, "Welcome to Holland," she compares his birth and her shifting expectations to landing in Holland when she thought she was going to Italy. In Italy, you would see Rome, the Leaning Tower of Pisa, the Sistine Chapel, and paintings by Michelangelo. Holland is flat, and all you can see are miles and miles of tulips and windmills.
When I was pregnant with William, I expected to land in Italy too. When he was born and I realized he had Trisomy-21, I knew I was in for a long and arduous journey. On a bike the headwind would be fierce, I didn't speak the language, and other than that, I knew nothing about Holland. I resisted the journey even though the plane had landed.
But I couldn't leave. William was William, not Trisomy-21. As I fell in love with him, I started to see things from a new perspective. Even though arriving in Italy was what had I expected – what I planned on – I had it all wrong. It took me some time to realize it, but landing in Holland was going to be okay. Certainly, there were some bumps along the way. William had heart surgery and an aortic repair before he was eight weeks old. The bureaucracies I would have to face spoke a different language. With William's birth, I had suddenly entered a new culture beyond the one I had lived in before. I learned a new language and saw life through a different lens. Still, after William was born, I started to notice a plethora of red, yellow, and pink tulips growing around us, and the windmills spinning through the day and night. I was and am meant to be right where I am with my beautiful child, who has given me far more than Italy ever could.
When you have a baby, any baby, especially your first one, all expectations fly out the window. Today, I embrace Holland. I see farther there than I see in Italy. In Holland, I watch windmills whir endlessly over fields of tulips of all different and extraordinary colors.
Unwrapped Packages
Trisomy-21 enters our lives like a gift packaged in brown paper. The paper is stiff, unyielding, and challenging to fold. Everyone unwraps the package differently. Perhaps with wonder. Maybe not knowing whether to laugh or cry, console or worry, send a sad note, or sing praises. More people than you would think aren't ready to unwrap the stigmas. Some people don't know where to put them once they open them. It is human nature to keep people in categories. Thus, extraordinary people fit into the world in a way that others can feel comfortable.
No one mentioned that William might have Trisomy-21 on February 22, 1989, the day he was born. Doctors and nurses skirted around us, focusing on his jaundice, and my inability to nurse him. Meanwhile, other mothers popped out pink baby girls and boys with healthy hearts who seemed to grow during their short overnight stays. People from my birthing class bounced in and out of the hospital. One mother concerned her daughter's ears might stick out too much, taped them down with Scotch tape.
William and I stayed in the hospital for days. I, still ignorant of the semantics, was sure he was a Mongoloid, an archaic term I am ashamed to write on this page. It took a whole day for me to gather the courage to admit the truth to William's pediatrician. When I did, she raised her eyes – perhaps because I was the one who said it first – as if I had opened the window and let in the fresh air.
Declaring my suspicion made it real.
Having a newborn son different from any child I expected to have, tore me apart. Guilt for not being elated, for feeling resentful and cheated seeped through my skin. Doubt wouldn't let me fathom how to make it through the next day, let alone the future. Devastation wrapped my heart. In the shower, I cried until my skin turned red. William was a mystery. He was also my son, which trumped everything, the doctors, my mother, Italy, guilt, fear, and doubt.
God and Angels
When people used God and William in the same sentence, it used to fill me with resentment. I brushed it away, but it resonated and fed my doubts about whether or not there is a God. A friend told me it was okay to be mad at God, which comforted me. It allowed me to be angry at something besides myself. Maybe God does choose specific people to raise children with disabilities.
A few days after William's birth, my Aunt Phoebe, whose daughter Susie has Trisomy-21, wrote, "God has sent an angel to you in William." Why would any God pick me for this job? From my perspective, the only thing God had done was send me a child I was incapable of raising. I was a first-time 31-year-old mother with a lifetime of nurturing an extraordinary child ahead of me. Perhaps if I had known what I know now, Aunt Phoebe's words would have resonated with me.
I wonder about God. I almost refuse to believe in him. Contradictorily, when things get rough, I blame Him, ask Him why he made me his new version of Job. Perhaps my formative years sitting on cushioned pews inside St. Matthew's Episcopal Church in Bedford, New York, molded these feelings. Even then, it felt uncomfortable praying to something as intangible as a God sitting in heaven with his flowing white beard.
Peering into the Future
When William was still recovering from jaundice in the hospital, I drove to town to take a break. I saw a man with Trisomy-21 riding his bike and weaving confidently through the traffic. He was going places. Why didn't this man infuse me with hope? Instead, what lay ahead daunted me. How was I going to get William from where he was to where the man on his bike was?
I kept to myself because I was mourning for the baby I didn't have. During these times, I couldn't bring myself to call the women from my childbirth classes whose babies were going to go to daycare, pre-school, elementary school, and eventually college. Beyond that, their opportunities were endless. I wasn't sure that it would be that way for William.
When William entered the world, I felt as if we did not belong. One day after our prolonged stay in the hospital, I gave a ride to a colleague. She peered at William in his car seat. I felt compelled, as I always did, to explain he had Trisomy-21. She stopped me and said, "I know. He's beautiful." She got it. She knew William shed light on what he held for us. We do belong here. I may feel alone in this world most of the time, but every once in a while, someone reassures me with their understanding and compassion.

Home
William arrived at our first house on Starrett Row in Bennington, New Hampshire after spending his first week of life in the hospital with jaundice. Tom, my ex-husband, and I did not have the money to buy anything but this fixer-upper, with light pea-green vinyl siding, a one woodstove house. You could stand in front of a window on one side of it, and blow out a candle on the other side in one breath.
We hadn't finished turning the house from a shack into a home. Tom had built our bed and moved it to the second floor, which finally had electricity and a crib for William. While I was pregnant, people used to ask me if I had decorated the baby's room yet. "Well," I would reply, "we put up the sheetrock this weekend, but we need to install the rest of the electrical sockets."
I was new to marriage, to homeownership, to barely making it from one paycheck to the next, to New Hampshire, and to parenting. I didn't know about the trials I would face over the next two decades or that twenty years later, Tom and I would be divorced.
After William's birth, the depression I had lived with all of my life found an ample opportunity to surface and compound with the hormones and emotions wreaking havoc on me already. Depression creeps into me when life sneaks up on me unawares. It's exhausting. If I am not in the throes of it, I am in the throes of holding it back.
I grew up in a family of five. Three of us were and are bipolar. This lead to my brother's death in his 50s. Another brother avoided the family as much as possible, and my little sister was born six years after me. Maybe it was birth order, perhaps it was me, but my parents didn't have the time or wherewithal to deal with another needy child. I was the one who had to be strong. Falling apart was a sign of weakness. If any of us were sick, we kept quiet and went to school. I don't think I ever cried in front of my mother. I played sports with a vengeance and spent as much time as possible outside. As a child and an adult, I have sought refuge in nature and the woods to face my world. I worked hard to keep my lack of trust, my depression, and my vulnerability in check.
Cocoon Days
I was not new to feeling alone. I had spent a lifetime as a sole warrior, fighting my own battles and trying to understand how to live in a world that didn't make sense to me. However, with William, it was a different kind of alone and misunderstanding. After William and I settled into our house on Starrett Row, I spent most of my time alone – the kind of alone that comes with snowy New Hampshire cloudy days. Winter cold. Winter alone.
With William, I welcomed the quiet. I embraced the time I had to focus on him for days on end in all of the newness surrounding me. I pretended we didn't need to face the outside world. The heat from the woodstove curled through the dining room and found me in the rocking chair holding William and falling in love. The heat was sparse, but enough to wrap us in the warmth of what was happening inside, where I could disregard the threats and realities of the outside world knocking on my front door. We weren't ready to metamorphose and fly headlong into the unknown. Now was the time to stay inside and rock, avoiding the cold raw days ahead.
The road passing by the house looked as grey and bleak as the sky. The neighbors weren't home, and the aloneness settled in like a quiet leaky storm spitting out specks of snow, silencing the birds in the eaves, and filling the house with loud, lonely reticence. In our house, I settled into my cocoon, where the grey February light streamed through the single window in William's room, leaving a small patch of warmth on the floor. The rocking chair resided in the corner. I could not afford to reupholster it, so I covered the worn, ripped, brown corduroy with a bedspread from my college days. It felt as if I was piecing my life together with the past because it was all I had.
William and I swaddled in the comfort of our nest. The snow still hugged the new March ground. Together we nursed, tucked under cover, protecting and loving more than I knew I was capable. Under the eaves, next to our nursing chair, a mother bird also made her nest. It was with her I came to know William. I wondered about the mother bird's experience. Perhaps, she was a Bluebird, or a House Finch, or a Song Sparrow. We had the same job to do. Both of us were protecting our young from the outside until they were ready to fly from the nest. I nestled into my cocoon trying to nurse William, while Mother Bird kept a pulse on the outside world, foraging for food.
I listened to her chirping chicks when she flew away to find food for them. William mostly slept and rarely cried. When Mother Bird braved the cold for her chicks, they kept each other warm in the nest. She would fly back and rustle in to satiate their cries for her and the food she brought. They stayed there with William and me, growing and becoming a part of our small world.
None of us was ready to leave the nest. While Mother Bird coddled her chicks, I rocked myself trying to get William to nurse, my old college blanket scratching my back with warm comfort. Compared to the chicks, William was silent, his skin soft, almost blue. I tucked his loose limbs into his blanket as I tried to feed him, not knowing I was barely keeping him alive. William slept more than he ate, and his breathing was labored. He was becoming more transparent each day.
Even though I didn't have to gather worms as Mother Bird did, eventually I would have to venture out of the nest too. I would have to step out of the house and lay a path for William, find a place for him to get healthy, and the right people to support him when I went back to work. A series of unknowns awaited both of us. But I knew the stories of baby birds falling out of the nest and never learning to fly.
I didn't have a chance to stop hearing Mother Bird's chicks chirping or when their chirping may have turned into song. I don't know when they started to fly from the nest or if any of them didn't make it. Maybe I stole away before she and her chicks did when I took William to Children's Hospital one day and didn't come back until the black flies were biting with a vengeance, or the sun was high in the June sky, and her bird children could swoop and dip over the surface of lakes to satiate themselves without her.
Mustering Courage
In those first few weeks after William's birth, he slept, and I gathered my courage to call the first person who would start William and me on our journey into the real world. The world of "normal," if it would let him in. This contact would be my first step out of the nest, which I didn't want to leave just yet. Calling his daycare provider, Jay, took days of courage-mustering.
Before William was born, Jay had agreed to provide daycare for him when I returned to teaching high school in September. Jay took care of six kids at her house ten minutes away from mine. It took all the mettle I had to call her number. I dreaded she might not take him because he had Trisomy-21. I expected her to tell me that I needed to find a place that dealt with the Williams of the world.
"Hey, Jay, it's me, Elizabeth." I felt as if I had to explain who I had been before when William had been an expectation.
"Hello, Elizabeth. So, you must've had your baby by now."

"Yes, Jay, I did. That is why I am calling."
"That's great. Is it a boy or a girl?"
"It's a boy," I blurted out the rest, "but he has Down syndrome, can you still take him?" It came out in a garbled run-on so she would skim through my words without the interruption of a period or a semicolon. I wanted them to gallop out of my mouth so she wouldn't have a chance to say no.
"Of course, I will. Why wouldn't I?"
I didn't hear the rest of what she said. William was going to daycare. He was going to do what any other kid would do when his mother went back to work.