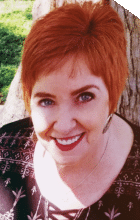 Madison Granger is a free-spirited late bloomer. She stubbornly lives by three beliefs: dreams can come true, never give up, and you're never too old to try new things. She is living proof of all three adages, vowing she isn't done by a long shot.
As a girl, she entertained her friends with stories of knights in shining armor coming to rescue the fair princess with a happy ever after. Or maybe it was their favorite rock stars falling madly in love with their giggling pre-teen selves. Either way, the stories kept them coming back for more. Today, Madison has changed brave knights and rock stars to shapeshifters and werewolves, but the happy ever after remains.
Her love of books never wavered through her life. Not ever finding the one book that told it just right, Madison decided to write it herself. The Kindred series is her "heart story," and she's only half done.
In between the ongoing saga of the Kindred, Madison manages to calm her muse by writing other stories. She's now adding Urban Fantasy to her repertoire of Paranormal Romance.
Madison lives in southern Louisiana and enjoys reading, cheering on the New Orleans Saints, and spending time with friends and family.